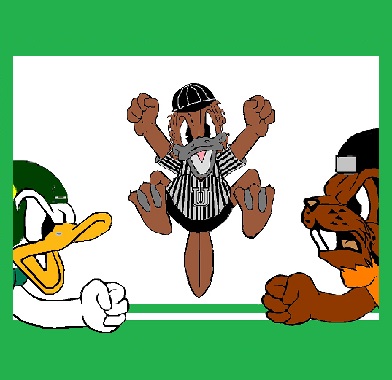 the Oregon State Civil War (OSCW) project
About the Oregon State Civil War (OSCW)
Civil War (college football game) | The Civil War is the colloquial name, originally, for an American college football rivalry game played annually in Oregon, between the Ducks of the University of Oregon in Eugene and the Beavers of Oregon State University in Corvallis. First played 122 years ago in 1894, it is the fifth most played college football rivalry game in the Football Bowl Subdivision of the NCAA. Both universities are members of the North Division of the Pac-12 Conference.
The first football game in the series was played in 1894 and has been contested 119 times through 2015; Oregon leads the series 63–46–10. The game was not contested in 1900, 1901, 1911, 1943, and 1944 and two games were played in 1896 and 1945. The first reference to the "Civil War" name was in 1929 and came into common use in 1937. Prior to that, it was called the "Oregon Classic" or the "State Championship Game.". >> Learn more >>
Oregon Ducks vs. Oregon State Beavers: Civil War football history, 2000-2015 | The Ducks hold a 63-46-10 edge all-time and have won the past eight meetings leading up to the 2016 game. Before the teams clash in the 120th Civil War game on Saturday in Corvallis, The Oregonian/OregonLive is revisiting the history of the series. Here's a look at the Civil War games played from 2000-2015. >> Learn more >>
Goe: Gary Andersen's Beavers take a hammer to Helfrich's Ducks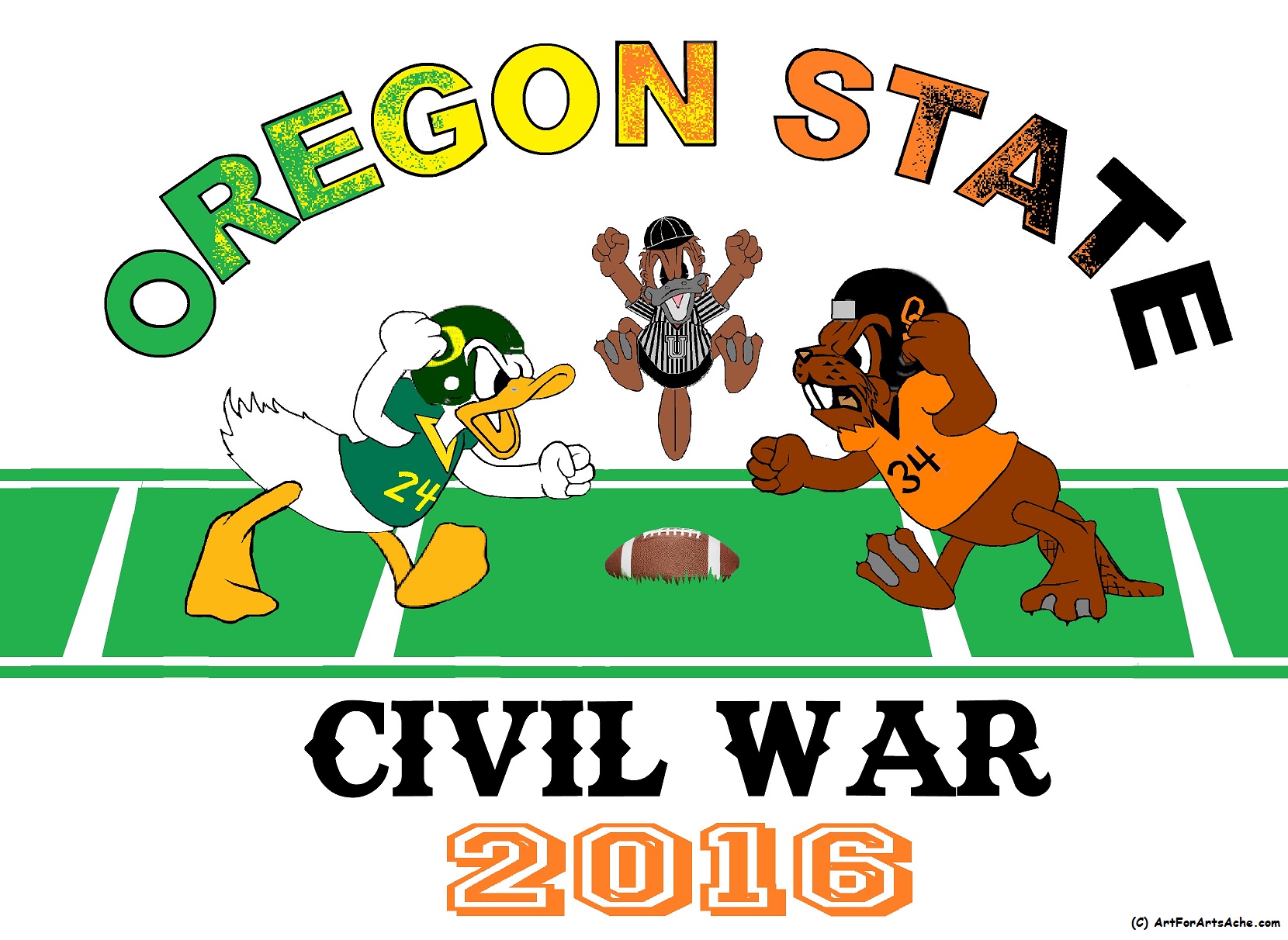 Oregon State coach Gary Andersen celebrates the Beavers' 34-24 win over the Oregon Ducks in the 2016 Civil War at Reser Stadium in Corvallis on Saturday, Nov. 26, 2016. >> Read more >>
Although the college football game is the most popular rivalry, the two universities have Civil War games in every sport that both sponsor. There is also an academic rivalry between the schools on occasion, and competitions for community services such as blood drives take place often. >> Learn more >>
Welcome to the Civil War Series | Since 1894 the Ducks and Beavers have been fierce rivals. This site is dedicated to the history, current and future events of this competition, including the ten sports where the Ducks and Beavs go head to head, in one of the oldest rivalries in the nation. >> Read more >>
About the OSCW project
AfAA is tickled orange, green, black and yellow about the OSCW and has plans to participate and shamelessly promote for the sake of fun and profit. As an example, for fans who are for both, or neither, a Duck or a Beaver - see our line of University of the State of Oregon (USO) Platypus artwork - suitable for framing, t-shirting, mad-hatting, or what need you.
Check out our entire line of OSCW images and pick one up -or- design your own today!
If you'd like to communicate more on this special project, visit our Contact page for options.
Learn more, Network
We also do web pages and sites, for Artists and others. Check out these examples -